Growing Up on Anglesey ...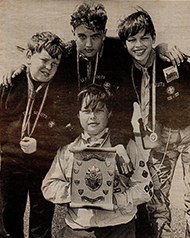 I was born just before the 1980s began in the city of Bangor in North Wales. From the hospital, I was taken to Anglesey, where I grew up in an ex-farm house in a tiny village near the north coast of the island. Anglesey was a great place to grow up, with plenty of open spaces - beaches and the mountains of Snowdonia not too distant.
In addition to dual-language schooling (I can still understand Welsh perfectly well, though I tend to trip over my tongue when speaking and my writing is rusty as a very rusty object), I was a member of the 1st Cemaes Cubs group and subsequently 1st Cemaes Sea Scouts. Although I've since become somewhat lazy, I still enjoy outdoor pursuits when I get talked into venturing forth. I particularly enjoyed orienteering, climbing and abseiling.
For a time, I worked as a Public Librarian on Saturdays and during the school holidays - primarily in the port town of Holyhead, which I really enjoyed. It was during this job and my A-Levels that I decided to pursue a course in IT and Library Management at university ...
Loughborough: University and Beyond ...
At the time (1998), Loughborough University was one of the top three institutions in the United Kingdom for Information Science. Despite not actually attaining the required grades at A-Level, I must have performed adequately at my interview as the department accepted me onto the course I had applied for. I had a great time on the course, living in catered halls of residence for three years, playing networked computer games, drinking relatively hard and studying ... not quite so hard.
Following my undergraduate degree, I worked back on Anglesey for a year for what was then Magnox Electric at Wylfa Nuclear Power Station. Next I returned to Loughborough University to pursue a Masters degree in Electronic Publishing.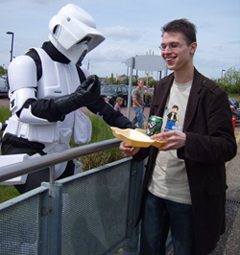 It was during this year (2002-2003) that I became properly interested in the Superhero world and comics in a big way. As a child, I enjoyed Batman, and watched Spider-Man cartoons and so on, but I'd never been a reader of comics. For one reason or another, I began watching Justice League on the telly which led me to Green Arrow and then to Marvel Comics' Ultimate line which had recently launched. I also rekindled an interest in art and drawing at this time - with a new found love of the art of the comic medium.
Since university, I worked for four years for Caski Consulting Ltd. within various Nuclear Power Stations doing database application development (I tought myself Visual Basic during this time), technical authoring, software testing, automated script writing and other such activities. I started to feel a yearning for more design and development work - the work which gave me the greatest satisfaction. Taking a big risk (for me anyway), I took a six month contract at the University of Northampton, which led to a further year's work there and was where I was introduced to Barry Nugent and the Geek Syndicate. This proved to be one of the turning points of my non-work life in two ways. Firstly with regards my involvement with the Syndicate (for more information, read this page), but it was also through Barry that I met the girl who would become my wife.
Married Life in Nottingham ...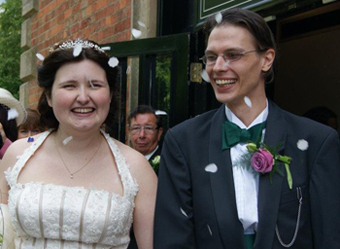 So, after my contract at Northampton ended, I moved to Nottingham and got a job as an IT Developer for a small fulfillment company in Leicester. Yes, it seems I insist on living an hour's drive from my work-place. I moved in with Amy, who I met (through Geek Syndicate) at a comic convention in Birmingham. We subsequently got engaged in Cornwall. I took her on the pretence of being a late birthday present and proposed via a Kinder Surprise egg (I'd removed the toy - replaced it with a Clogau rose gold ring and carefully resealed it). A year after that (2012 for those interested), we got married at Rufford Mill in Nottinghamshire and went to Legoland Denmark for our honeymoon.
Currently, I am still working in Leicester while doing other fun stuff like co-hosting a gaming podcast, editting and designing the Geek Syndicate Digital Magazine, designing elements for the Transmedia company Unseen Shadows and drawing the occasional picture.
So that's a brief accounting of my life. I have skipped a lot of stuff which will be covered elsewhere on this site!